Vegan Shiitake Dashi Concentrate 150ml (gluten free)
Our concentrated shiitake sauce is made only from Shiitake mushrooms, enzymes, water and salt. No additives!!   The best shiitake chosen to make this concentrate are left in salt brine for at least 4 months.  This is a revival of the plant sauce "Kusasho" found in the Heian period in Japan over 1000 years ago!
This is extremely concentrated with an AMAZINGLY powerful shiitake taste. You only need a few drops to deglaze pans, add to meats, stocks, risottos. pastas, make shiitake clear broth and because it is vegan is perfect to add flavour to vegetables and tofu! Free of wheat and soybeans! Recipes below:
Shiitake Dashi Recipes
Fermented rosy seabass on pain de Campagne (Restaurant TERAKOMA, Tokyo)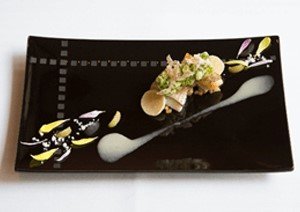 Pain de Campagne        300g

Kronenbourg Blanc       250g
Fleur de Sel de Camargue 20g
Beer yeast                           3g
Rosy seabass                  25g
Rice bran oil            small amount
Shiitake sauce         small amount
Ingredients for sauce
fish fond, shiitake dashi,
white sesame, cream, unsalted butter, fermented butter, thickening agent
Chop the bread finely and spread to create the fermenting ground for portioned rosy seabass. Leave for three days. Take out the fish and coat with Shiitake dashi and rice bran oil and steam for 5 minutes.
Make fond using baked fish rough and vegetables. Mix in other ingredients for sauce.
Log cultivated Shiitake Taglierini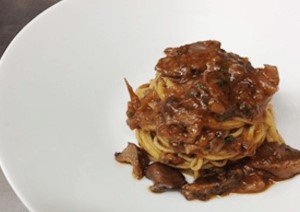 Taglierini                                  350g

Ragù sauce (below)                 350g
Log cultivated Shiitake                         60g
Tomato sauce                         100g
Diced tomato                          150g
Shiitake dashi                                   25ml
Finely chopped garlic                      10g
Butter                                                 75g
Vegetable stock                      small amount
Cook garlic and shiitake. Add chopped tomato, tomato sauce and shiitake ragù sauce. Cook further by adding vegetable stock. Mix cooked taglierini in the sauce and add butter shiitake dashi, salt and pepper.
To make 700g of shiitake ragù sauce
Put olive oil 300ml in a pot and cook finely chopped shallots 50g, garlic 5g and rosemary 2g.
Add log cultivated shiitake 250g and Tomato paste 10g
Cook further by adding red wine 150ml and tomato sauce 300g and water from soaking dehydrated Shiitake 250g. Add Shiitake dashi 10g, salt and pepper.